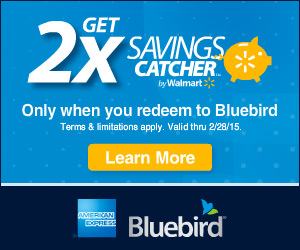 Are you ready for an amazing way to get money back on your grocery purchase? Through February 28, 2015 you can get 2X Savings Catcher when you redeem using your Bluebird card by American Express!
How it works:
Redeem to Bluebird– Log in to Walmart Savings Catcher and click "Redeem to Bluebird" on your Savings Dashboard. We'll double your Reward Dollars and turn them into Walmart® Buck$, which are separate funds on your Bluebird® Account that can only be spent at Walmart or Walmart.com.
Spend at Walmart– Activate your Bluebird® Card, then use it at Walmart or Walmart.com. Your Walmart® Buck$ will be automatically applied at checkout. It's that easy!
With Bluebird you can:
Set up Direct Deposit
Pay bills online
Write Bluebird checks
Use Mobile Check Deposit**
And many more!
Plus there are:
No Hidden Fees
No Monthly Fees
No Overdraft Fees
(because you can't overdraft)
No Minimum Balance
Make sure you sign-up now because I am sure this will come in handy for the holiday shopping season!
*Offer is valid through February 28, 2015, and subject to change or cancellation at any time. Amounts credited to your Bluebird account in connection with the redemption of Reward Dollars, including amounts credited in respect of American Express' Double Your Rewards Dollars offer, will be held as "Walmart Buck$," which are funds in your Bluebird Account that can be used exclusively to make purchases at participating Walmart locations and www.Walmart.com. Walmart Buck$ are not redeemable for cash. Amounts credited in respect of American Express' Double Your Rewards offer may not exceed $599.99 per calendar year. Click here for complete Walmart Buck$ terms and conditions.
Savings Catcher is an online price comparison tool that compares the prices of eligible items purchased at Walmart to the advertised prices of the identical items at top retailers. Customers no longer need to go to multiple stores in order to find the advertised lowest price. If Savings Catcher finds an advertised price that is lower than the price paid at Walmart, customers will get back the difference on a Walmart Rewards eGift Card or a Bluebird Account to spend exclusively at Walmart stores or Walmart.com. Now through February 28, 2015 when Savings Catcher customers redeem their savings to a Bluebird Account, Bluebird will double their savings to spend at Walmart or Walmart.com.